Relations between Bangladesh and Vietnam
Relations between Bangladesh and Vietnam
The EU is actively engaged with the South East Asian region and negotiations for a region-to-region Free Trade Agreement ( FTA) with ASEAN were launched in 2007 and paused in 2009 to give way to bilateral FTAs negotiations, conceived as building blocks towards a future region-to-region agreement.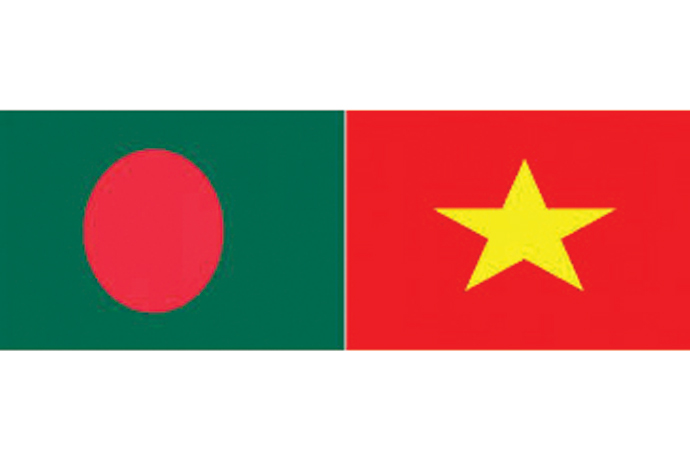 Negotiations with Singapore and Malaysia were launched in 2010, with Vietnam in June 2012, with Thailand in March 2013, with the Philippines in December 2015 and with Indonesia in July 201Negotiations of an investment protection agreement are also under way with Myanmar (Burma). The European Commission finalised negotiations of trade and investment agreements with Singapore in October 2014 and with Vietnam in December 2015.
Why the growth?
First, they had opened their economies to foreign investment many years ahead of South Asia. They are much more economically outward-oriented group of countries than those in South Asia. Until mid-80s the South Asian countries were considered as the most economically inward-oriented group of countries outside the former Soviet bloc.
Second, unlike South Asian countries, the countries in South East Asia have common political and security goal. All except Vietnam and Laos have pluralistic political institutions and strong advocates for free-market economy. South East Asian countries succeeded in bringing down intra-South East Asian differences and helped to forge new political, cultural and social links that reinforced economic integration among them. The countries have more or less the same security concerns and therefore are better placed in addressing jointly security issues.
Third, there is no territorial dispute of such intensity as the existence of Kashmir dispute between India and Pakistan. There are low-level bilateral disputes among the South East Asian nations that do not however impede co-operative relations among them. The introduction of the Orient Express-train from Singapore to Bangkok through Malaysia demonstrates the willingness of all neighbouring countries to cooperate among them.
Fourth, South East Asian region is not as symmetrical as that of South Asian region. No country in South East Asia can command a similar role as India does in South Asia. India is not only larger in size than the rest combined but also is situated right in the middle of South Asia
Finally, women play significant role in commercial activities in the whole region as there are less religious and social constraints on women's public activity. Although the community is traditional, it is much less conservative in outlook than that in South Asia.
It is reported that global flows, urbanization, and disruptive technologies are already reshaping the region. But they are unlikely to lift it to the next level of economic development without deliberate strategies for capitalizing on them. Given the size of the potential prize and the importance of managing the associated risks, these three forces should be the focus of the region's policy discussions—and businesses need to embed them in their strategic planning.
Relations with South East Asian Countries
One of the planks of Bangladesh's foreign policy is to project the country as "the bridge" between South Asia and South-East Asia. It is argued that rice- eating habits start from Bangladesh and end in Indonesia. The climate including rainy seasons is similar to that of South Asia. Bangladesh people and people of South-East Asia have many common traditions and culture. For example, the traditional Bengali New Year is celebrated in Bangladesh and in South East Asia around. 14-15 April every year.
Let us now proceed to Bangladesh's relations with Vietnam. Long - term investments in Vietnam are quite strong by other countries. The flourishing economy is providing the country with long term prospects to reform plans, overcomes skills shortage, and infrastructure challenges.
Bangladesh and Vietnam continue to maintain friendly and mutually supportive relations. In 2013, trade between the two countries stood at $500 million, heavily in favour of Vietnam.
It may be recalled that Bangladesh Prime Minister Sheikh Hasina visited Vietnam on November 2-4 to ASEM countries in New Delhi in 2015. Much earlier Bangladesh and Vietnam signed in 2004 in the fields of agriculture. Another agreement was signed on the cooperation on establishment of Chambers of Commerce and Industry of the two nations.
A Vietnamese delegation visited Bangladesh. Chairman of Vietnamese Petroleum group Bui Ngoc Bao led a 12-member business team. Welcoming the delegation from Vietnam Bangladesh FBCC1 requested them to import frozen foods, pharmaceutical products considering their quality and price competiveness.
Finally Bangladesh and Vietnam can work together in many areas of other goods. The delegation from Vietnam to Bangladesh has provided vast opportunities in many fields in goods, opened up new areas of mutual interest, economic, social and cultural areas.
Barrister Harun ur Rashid, Former Bangladesh Ambassador to the UN, Geneva.
Copyrights Thiet Ke Website by ungdungviet.vn