Register a company in Viet Nam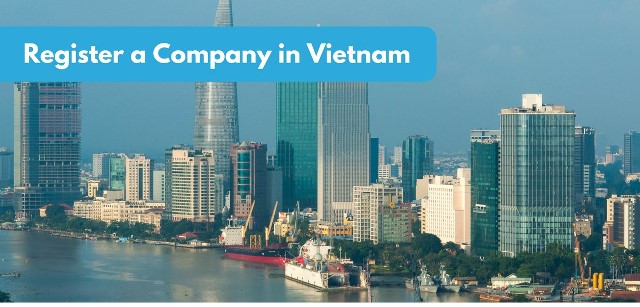 The different set up procedures for companies that want to begin
operations in the country. We also recommend professional assistance to guide companies
through the myriad of laws and procedures in the country.
Step 1 – Pre-investment approval

For some types of investment, companies need to seek the approval of Vietnamese authorities
prior to starting establishment procedures. As a result, it is important to understand if an
investment will require approval, and if so, preparing requisite documentation and working
against the application processing times.

Step 2 – Investment registration certificate application

The first step in the Vietnamese corporate establishment process is an application for an
Investment Registration Certificate (IRC). This is required of all 100 percent foreign owned
investment projects and establishes the right of the foreign enterprise to invest within Vietnam.
To apply an investor must:
• Application for implementation of investment project (this should include details of the
project in Vietnam);
• Proposal of investment project (should include the details of the investment project, including
lease agreements or land use needs); and
• Financial statements (to be provided for the last two years of a company's operation; additional
information may be required to prove financial capacity).
Timeframe: 15 days from the date when documents are submitted.

Step 3 – Enterprise registration certificate application

The Enterprise Registration Certificate (ERC) is required for all projects that seek to set up new
entities within Vietnam. When obtained, the ERC will be accompanied by a number that will
double as the tax registration number of the entity.
As part of the application process, the following information should be prepared:
• Application for enterprise registration;
• Company charter;
AN INTRODUCTION TO DOING BUSINESS IN VIETNAM 2021 20
• List of all board members;
• List of legal representatives; and
• Letters of appointment and authorization.
Any foreign documents or supporting information provided will need to be notarized, legalized
by consular officials, and translated into Vietnamese by competent authorities.
Timeframe: Three days from the date when documents are submitted. It should be noted that
applications for the ERC and IRC can be processed concurrently; both can be obtained within
15 days when applied concurrently.

Step 4 – Post licensing procedures

Once the IRC and ERC have been issued, additional steps have to be taken to complete the
procedure and start business operations. This includes:
• Seal carving;
• Bank account opening;
• Labor registration;
• Business license tax payment;
• Charter capital contribution; and
• Public announcement of company establishment.
Charter capital

Charter capital can be used as working capital to operate the company. It can be combined
with loan capital or constitute 100 percent of the total investment capital of the company.
Both charter capital and the total investment capital (which also includes shareholders' loans
or third-party finance), along with the company charter, must be registered with the license
issuing authority of Vietnam.
Investors cannot increase or decrease the charter capital amount without prior approval from
the local licensing authority.
Capital contribution schedules are set out in foreign-invested enterprise (FIE) charters (articles
of association), joint venture contracts and/or business cooperation contracts, in addition to
the FIE's investment certificate.
Members and owners of a limited liability company (LLC) must contribute charter capital within
the capital contribution schedules set out in these documents and within the contribution
timeframes established by the Law on Enterprises.

To transfer capital into Vietnam, after setting up the FIE, foreign investors must open a capital bank
account in a legally licensed bank. A capital bank account is a special purpose foreign currency
account designed to enable tracking of the movement of capital flows in and out of the country.
The account also allows money to be transferred to current accounts in order to make incountry payments and other current transactions
Copyrights Thiet Ke Website by ungdungviet.vn