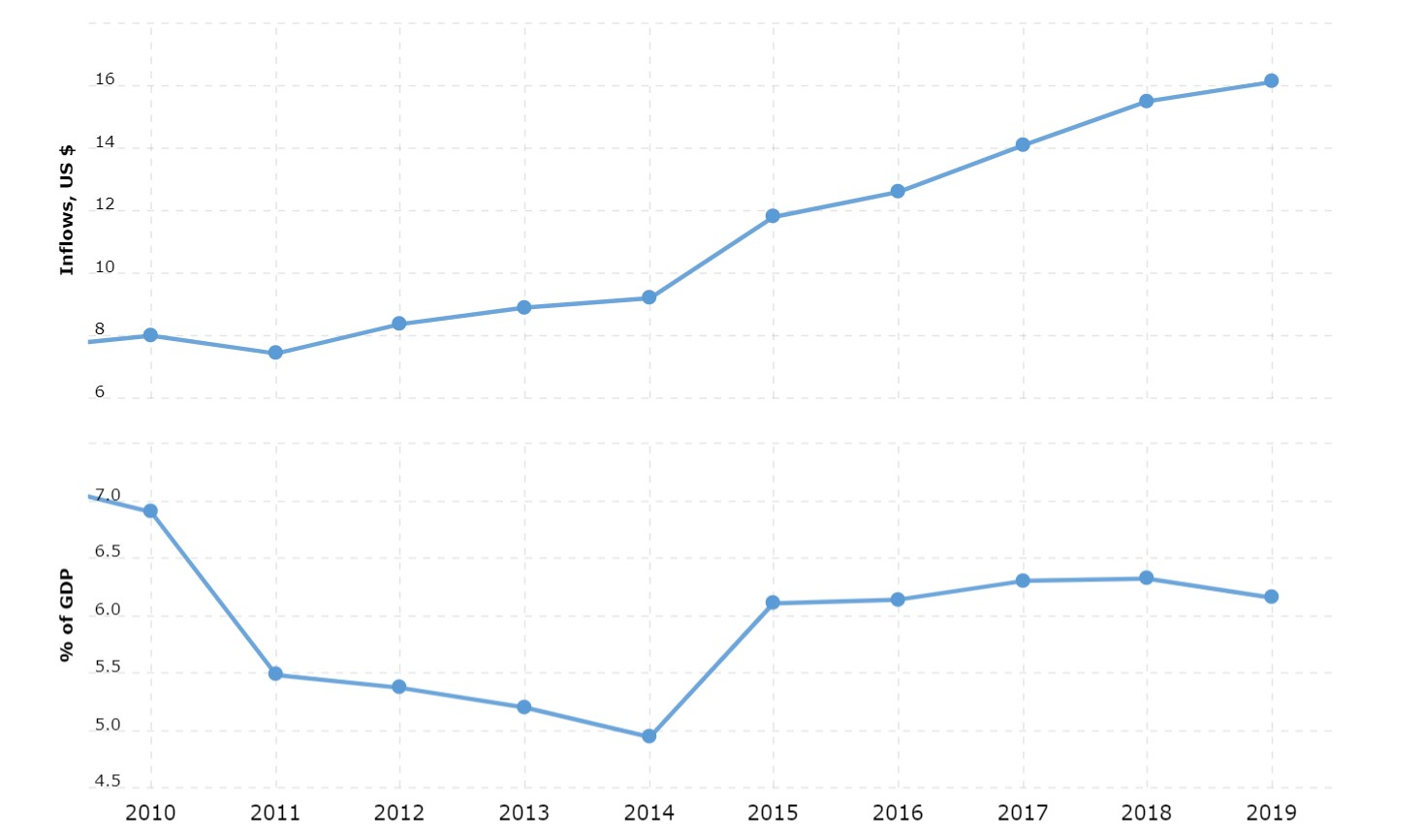 FDI in Figures
Vietnam's FDI inflows in 2019 amounted to USD 16,1 billion, an increase from the previous year (USD 15,5 billion in 2018), whereas total FDI stock reached USD 161 billion in 2019, according to the UNCTAD's 2020 World Investment Report. Traditionally directed towards light industry, FDI inflows quickly turn towards heavy industry, real estate and tourism. Inflows are expected to continue, confirming the country's position as one of the most attractive country in terms of FDI in Asia. The main investor countries are Japan, South Korea and Singapore, with the manufacturing and processing sectors attracting the most FDI followed by real estate and professional activities/science/technology (Trading Economics). According to preliminary data from the Vietnamese government, pledged FDI reached a ten-year high of USD 38 billion in 2019. The country's Foreign Investment Agency expects Vietnam to attract international investors deterring or reviewing their projects in China amid growing epidemic disease concerns.
Vietnam was ranked 70th out of 190 countries by the World Bank's 2020 Doing Business Report, having fallen one spot on the year. This was despite the country making some progress on the ease of doing business, particularly with regards to paying taxes. Vietnam expects disbursed foreign direct investment to continue to rise as the government steps up efforts to attract factories into the country. The Ministry of Planning and Investment aims to draw more FDI into areas including export-oriented, energy and high-technology by building a more business-friendly environment.
| Foreign Direct Investment | 2017 | 2018 | 2019 |
| --- | --- | --- | --- |
| FDI Inward Flow (million USD) | 14,100 | 15,500 | 16,120 |
| FDI Stock (million USD) | 129,491 | 144,991 | 161,111 |
| Number of Greenfield Investments* | 248 | 290 | 276 |
| Value of Greenfield Investments (million USD) | 21,308 | 29,028 | 31,032 |
| Country Comparison For the Protection of Investors | Vietnam | East Asia & Pacific | United States | Germany |
| --- | --- | --- | --- | --- |
| Index of Transaction Transparency* | 7.0 | 5.0 | 7.4 | 5.0 |
| Index of Manager's Responsibility** | 4.0 | 5.0 | 8.6 | 5.0 |
| Index of Shareholders' Power*** | 2.0 | 6.0 | 9.0 | 5.0 |
What to consider if you invest in Vietnam
Strong Points
The main strengths of the country's economy are:
Steady and stable growth of 6.3% in 2017 (Business France, 2018) with positive economic outlook
A young, inexpensive, skilled and fast growing workforce
Socio-political stability
A regional hub of competitive and attractive industrial production
A government that seeks to liberalise the economy and introduce free market reforms
Agricultural and energy production sectors that can rely on abundant resources but are still largely under-exploited
Weak Points
The main obstacles to the development of the country are:
Weak health and transport infrastructure
Weak financial structures and in particular the banking sector: the regulation of the financial sector has many shortcomings and its lack of independence vis-à-vis the government makes it opaque.
A complex business environment: financial investments are subject to a whole series of opaque regulations that can not be legally guaranteed and intellectual property rights are not systematically respected
A non-transparent legal framework: the judicial system is subject to political influences, and commercial disputes often take years to resolve
A high level of corruption
Great disparities of development and poverty in many regions
Recurring tensions with China on the subject of sovereignty in the South China Sea
Government Measures to Motivate or Restrict FDI
The promotion of foreign investments is part of Vietnam's development strategy. To that end, the government is improving its judicial system, creating more incentives and taxation policies for foreign investors and trying to respect its commitments with regard to the international community. "Business Forums", opportunities for foreign investors to establish fruitful dialogue and to assert their interests, are frequently organised between the Vietnamese government and the private sector. Additionally, Vietnamese efforts to maintain socio-political stability and set up and professionalise investment promotion activities also play a crucial role in increasing the FDI flow. Recent moves to diversify the economy and shift to high value-added industries also demonstrate the country's desire to attract new types of FDI.
Copyrights Thiet Ke Website by ungdungviet.vn