Bangladesh Embassy: Blood donation in Vietnam
On the occasion of the "Return Day" and the 100th anniversary of the birth of the father of the Nation of Bangladesh, Bangabanđu Sheikh Mujibur Rahman, on January 10, the Embassy of Bangladesh in Vietnam and 108 Military Central Hospital co-ordinated organized the program "Humanitarian Blood Donation" in Hanoi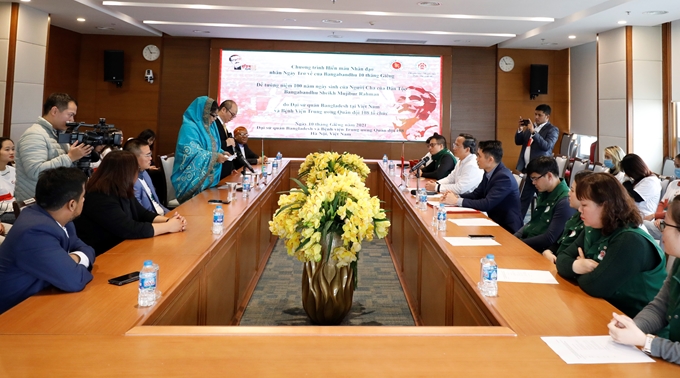 Speaking at the event, Bangladesh Ambassador to Vietnam, Samina Naz, expressed her respect to the great President Ho Chi Minh. At the same time, the Ambassador expressed her deep admiration for the success of the Government of Vietnam in dealing with the COVID-19 pandemic, and the efforts of the Government of Vietnam as Chairman of ASEAN 2020 and an unusual member. of the United Nations Security Council. Vietnam's success has been praised by the international community as a "Rising Star" in the COVID-19 pandemic, ranking 5th among the fastest growing economies.
Ambassador Samina Naz believes that the blood donation activity can help many Vietnamese in need of blood transfusion. This is not only a humanitarian activity but also a way to strengthen the relationship between people of Bangladesh and Vietnam.
Select January 10 to commemorate with deep gratitude the Father of the People of Bangladesh Bangabandhu Sheikh Mujibur Rahman, who brought the dreams of freedom-loving people and dedicates his life to making his dreams come true, the Ambassador wishes to thanks her Vietnamese friends for the noble volunteer work of donating blood to save lives. This will an expression of the good friendship between the two nations.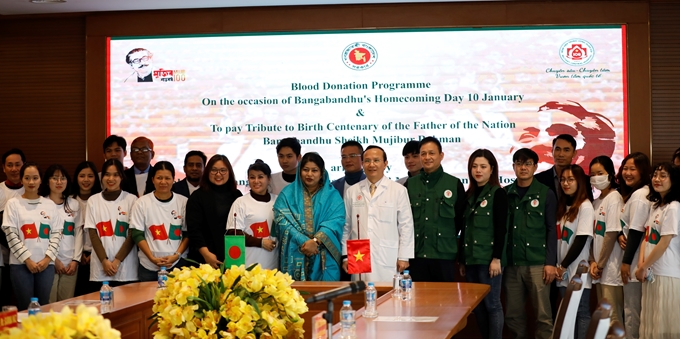 Bangladesh and Vietnam had 48 years of warm friends. Bangladesh was the first country in South Asia and the second in Asia to recognize and establish Diplomatic Relations at the Ambassador level with the Provisional Revolutionary Government of South Vietnam in 1973.
The year 2020, the countries of the world have seen some of the toughest times globally. In Bangladesh, to maintain economic activity and maintain growth momentum in the global Corona pandemic, Bangladesh's Prime Minister, Sheikh Hasina, has been leading the country on the path of development. During the crisis, per capita income of Bangladesh still reached 2,064 USD and economic growth rate reached 5.2%, is one of the 5 fastest growing countries.