Types of visas
In the circular No.04/2002/TTLT/BCA-BNG issued by the Diplomatic and Police Security Ministry on January 29th 2002 on implementation instruction the circular No.21/2001/ND-CP issued by Ministry on May 28th 2001 on entry, exit and immigration of foreigners in Vietnam. At V (fifth) section of this circular about Vietnam visa categories, there're 10 main types of visa, is symbolized as below: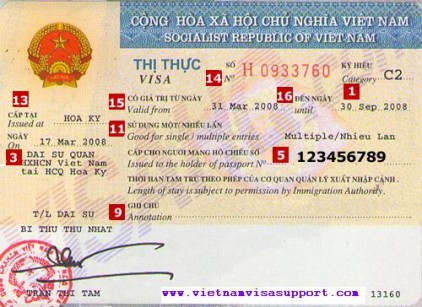 - A1 is granted for official members who are invited guests of Central Committee of the Communist Party of Vietnam or Congress, President, Government and equal guest of Minister, Deputy, President or vice president's people committee of province or centrally run cities combination with those relatives or assistants coming with them.
- A2 is granted for those who are members or representatations of foreign governments and those relatives or assistant entering with them.
- A3 is used for those who enter into Vietnam to work with foreign commissions or are invited by foreign commissions.
- B1 is used for those who enter into Vietnam to work with People's Supreme inspectorate, the Supreme people's court, ministries and equal ministries, government agencies, people's committee of province, central cities and central agencies of people's organizations, union or public.
- B2 is granted for those who enter Vietnam to process investment projects accepted by Vietnam authorized organizations.
- B3 is granted for foreigners who co-operate with Vietnam enterprises
- B4 is used for those who are staff working in foreign authorized offices, branches of culture-economic organizations or other fields, and non-government foreign organizations whose branches located in Vietnam.
- C1 is granted for those who enter into Vietnam with tourist purposes.
- C2 is granted for those who want to enter into Vietnam with other purposes that are different from the above purpose.
- D is used for those who haven't sponsored by Vietnam commissions, organizations, or the other individuals.
Note: D visa category which is not more than 15 days validity. The Other visas are more than 30 days validity.
We hope that the above information is helpful for those who want to apply Vietnam visa. If you need more information, or clear consultant before choosing Vietnam visa type. Please don't hesitate contact us via email visa@vietnam-immigration.org.vn or hotline (+84) 908.561.499
Source: From Vietnam Immigration Dept.
Temporary residence cards

Foreigners who hold work permits valid for one year or more, as well as senior management, can be granted a Temporary Residence Card (TRC). A TRC is issued by the immigration agency under the Ministry of Public Security and is valid from one to five years depending on the visa type. People granted a TRC can enter and exit Vietnam without a visa within the valid terms of their TRC. The processing time typically takes five working days while the fee varies between US$60 to US$100 depending on the duration of the card. Holders of work visas are eligible for a TRCs, as well as members of management boards, members of councils and boards of directors, heads of company branches and Chief Representatives of representative offices of foreign enterprises in Vietnam.
Permanent residence cards

An expatriate who has a legal residence while earning a living in Vietnam may also apply for a Permanent Residence Card (PRC); however, they are subject to the following conditions:

• The expat works for the development of Vietnam and is awarded a medal or title by the government;
• The expat resides temporarily in Vietnam for three or more consecutive years and is sponsored by his parent, spouse or child who is a Vietnamese citizen and has a permanent residence in Vietnam; and
• Foreign scientists or experts recommended by the head of a ministerial or government agency. The processing time typically takes five working days with a fee of US$100. A PRC holder can stay in Vietnam without a visa however, a PRC must be re-issued every 10 year
VISA Procedure
Contact detail:
Embassy of the Socialist Republic of Vietnam in Bangladesh
No.14 C.W.S(B) Road 33/24, Gulshan Model Town, Dhaka 1212, Bangladesh
Tel: +88-0-2222294052
Fax: +88-0-2222294051
Email: dhaka@mofa.gov.vn
Website: http://vnembassy-dhaka.mofa.gov.vn/​en-us/​
The Embassy issues visa based on the immigration clearance approved by the Immigration Department in Viet Nam. Therefore, you should request your sponsor (for example: business partner, travel agent, tour operator, event organizer, etc) in Viet Nam to arrange it. Once it's approved and you get the copy of the clearance, you are qualified to apply for visa at the Embassy with the following documents:

- Original passport (at least 6-month validity from the return date)
- Complete visa application form with 01 photo (form is available at the Embassy)
- Copy of your original passport (only the personal detail page)
- Copy of the approved immigration clearance (mandatory)
- Return ticket, booking, invitation letter, etc (if any).

Please be noted that the approval of immigration clearance is mandatory for all visa applicants who are looking for visa at the Embassy or visa on arrival.

The Embassy processes visas and consular issues on Monday and Thursday, 9-12:00 hrs and 14:00-17:00 hrs. Normal delivery is from 03 to 07 days, and express delivery is from 01 to 03 days (extra charge is applied). In other events, the applicants will be informed the visa collection time.
Copyrights Thiet Ke Website by ungdungviet.vn